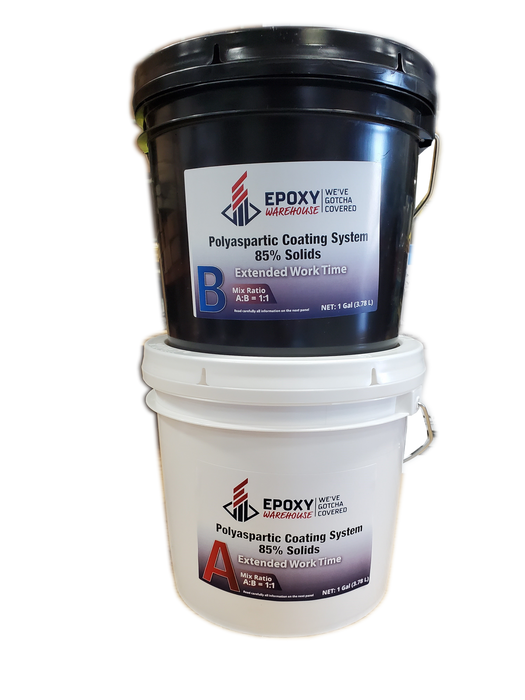 EW Poly-85 Polyaspartic 2-gal kit
Original price
$210.00
-
Original price
$210.00
Description

THIS PRODUCT IS AVAILABLE FOR PALLET PRICING

EW Poly-85 is a two-component (1:1) Polyaspartic coating. This poly is among the strongest in the market. This makes for a superior topcoat that is scratch, stain, and UV resistant. The EW Poly-85 can be used as a base coat and is available pre-tinted. (Call the store directly for special orders). 

BEST APPLIED WITH THE FLEX SQUEEGEE

It provides a quick turnaround with very rapid curing time (tack-free of approx. 180 minutes) under normal conditions allowing the installation of a flooring system in a single day. The product displays excellent curing capability at high-temperature levels. This product offers superior mechanical and chemical properties and is low maintenance. It also displays a superior aesthetic finish and excellent UV stability. It may be used in combination with any of our epoxy base coats.


 ________________________________________________________________________

ADVANTAGES:

| | |
| --- | --- |
| | |
| | |
| | Seamless Coating Potential for LEED eligibility |
| | |
| Excellent elongation and abrasion resistance | Superior mechanical and chemical properties |
| | |
| Multi-Coat application in one single day | Ease of application with long pot life and long working time |
| Impermeability / Mold resistant | VOC and EPA Compliant in all States and Canadian Provinces |
| CIFA, USDA, FDA, Food Safety Compliant | |

       

APPLICATIONS

The chemical and mechanical properties of EW Poly-85 provide excellent results for several applications.

• Pharmaceuticals • Food processing • Garage floors • Washrooms & Showers • Kitchens • Manufactures/Fabrication • Corridors • Public facilities • Showrooms • Schools • Laboratories • Hospitals • Commercial Centers • Retail Stores • Office buildings • Warehouses • Other Residential applications • Other commercial applications

EW Poly85 was developed to be used as a fast-set base coat or topcoat with decorative floor systems such as vinyl chips, colored quartz, or metallic floors.
Shipping Information

Expedited shipping is available - Please call the office at 239-772-0899.

Let them know you have an online order that you need rush shipping.