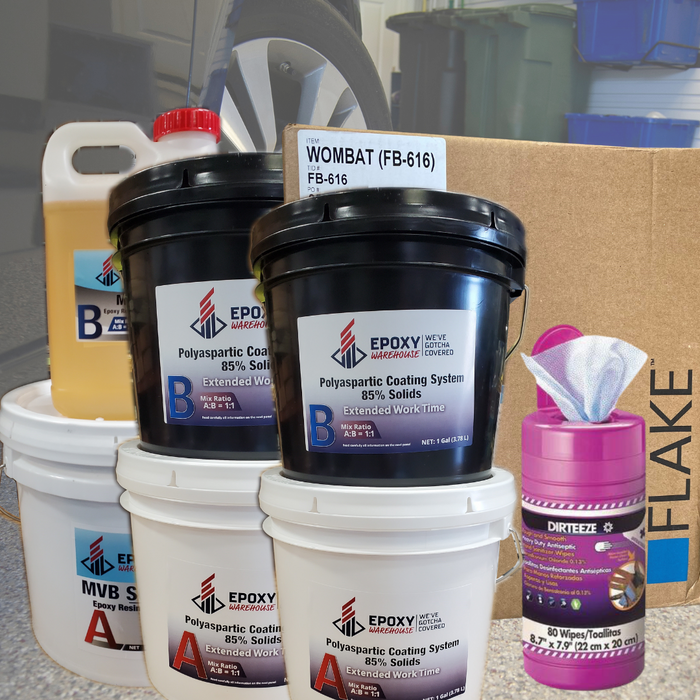 One Day Garage System - 400 SQ. FT.
Original price
$730.00
-
Original price
$730.00
Description

Introducing our One Day Garage Epoxy Flake Floor Installation Bundle!

This incredible package is designed to revolutionize your garage flooring experience, providing you with a stunning, durable, and long-lasting finish in just one day.

The material covers a 

400 SQFT 2-car garage (typically 20x20). Once you place your order, we'll call you to get your color selection.

(1) 3 Gal Kit MVB-15 Rapid Cure (350-525 SQFT/Kit)

(2) 2 Gal Kit Polyaspartic (250-300 SQFT/Kit)

(1) 40lb box of Torginol Signature Blend 


One of the standout features of this bundle is its ability to save you both time and money. With our efficient installation process, you can say goodbye to lengthy projects that disrupt your daily routine. By bundling all the necessary products together, we eliminate the need for multiple trips to the store, saving you valuable time and effort. Additionally, this bundle allows you to save on payroll costs by minimizing the labor required for installation.

We understand the importance of cash flow, which is why we've made a system that allows you to get paid on the same day with a one-day installation.

Our epoxy flakes are specially designed to seamlessly blend into the moisture-mitigating primer coat, providing a beautiful and uniform finish. This primer coat not only enhances the overall appearance of your garage floor but also acts as a protective barrier against moisture, preventing any potential damage.

To top it all off, our bundle includes a strong scratch-resistant, UV-stable, and stain-resistant polyaspartic topcoat. This topcoat adds an extra layer of durability, ensuring that your garage floor remains pristine and resistant to wear and tear for years to come.

Invest in our One Day Garage Epoxy Flake Floor Installation Bundle and transform your garage into a functional and visually appealing space. Say goodbye to dull and damaged floors, and hello to a seamless, professional finish that will leave you impressed. Don't miss out on this opportunity to upgrade your garage flooring effortlessly and efficiently.
Shipping Information

Expedited shipping is available - Please call the office at 239-772-0899.

Let them know you have an online order that you need rush shipping.