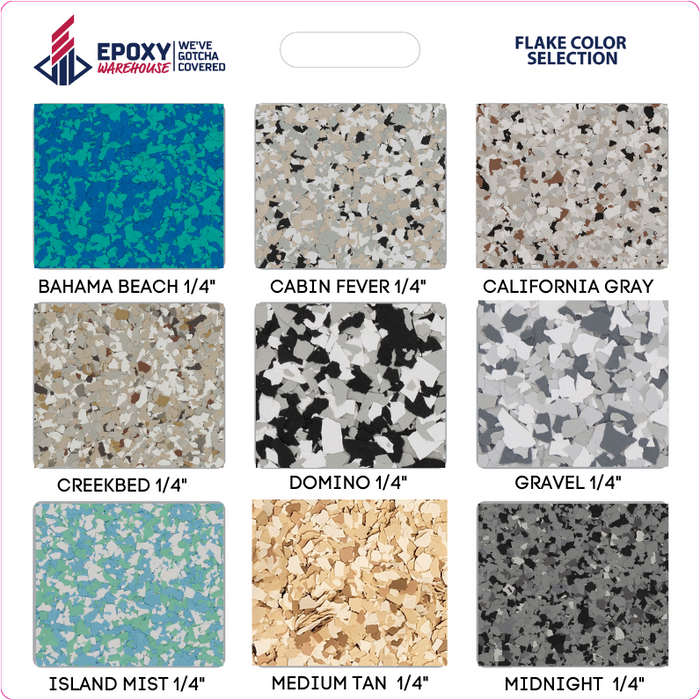 Sample Board - Epoxy Warehouse Stock Collection
Original price
$50.00
-
Original price
$50.00
Description

Introducing Our Epoxy Color Blend Sample Board

Are you an epoxy installer looking to elevate your professional image and impress your clients with a wide range of stunning color options? Look no further than our Epoxy Warehouse Color Blend Sample Board, the perfect sales aide to showcase your expertise and craftsmanship.

Why Choose Our Sample Board:

Most Popular Color Selection: Our sample board features 18 of the most exquisite stock flake color blends from Epoxy Warehouse. With 9 blends on each side, you'll have a comprehensive palette to choose from for your epoxy projects.

Professional Presentation: Each color blend is presented in fully cured 5x5.5-inch squares. This level of professionalism not only helps you visualize the end result but also impresses your clients with your attention to detail.

Customer Confidence: With this sample board at your disposal, you can confidently guide your clients through the color selection process. Show them the actual colors they can expect in their space, leaving no room for surprises.

Enhance Your Portfolio: Incorporating our Epoxy Color Blend Sample Board into your sales strategy adds a touch of sophistication to your portfolio. It demonstrates your commitment to quality and ensures you stand out in a competitive market.

Inspire Creativity: Explore endless design possibilities with these vibrant color blends. Whether you're working on residential or commercial projects, our sample board empowers you to unleash your creativity and create spaces that leave a lasting impression.

Elevate your epoxy installation business and set yourself apart from the competition. Invest in our Epoxy Color Blend Sample Board today and experience the difference it can make in showcasing your professionalism and enhancing your client relationships.

Order now and take the first step towards becoming the go-to epoxy installer in your area!
Shipping Information

Expedited shipping is available - Please call the office at 239-772-0899.

Let them know you have an online order that you need rush shipping.